MEET OUR STAFF
Jack Samuels
National Sales Manager
Jack Samuels career in aviation started in 1986 when he joined Aircraft Spruce & Specialty Co. in Fullerton, CA working in the warehouse and eventually moving to the sales department. He continued working at Aircraft Spruce through 2007 but from 1992 to 2005 was also a professional baseball umpire. Jack worked his way up through the minor leagues and eventually umpired 70 major league baseball games. From 2007 to 2013 he was Western Sales Manager for Kelly Aerospace and Hartzell Engine Technologies. Jack returned to Aircraft Spruce in 2013 and is now the National Sales Manager for the inside and outside sales staff at Aero Performance. Jack was promoted to this position with the 2020 retirement in of Bill Rehkop who had a 50 year career as an executive in the general aviation industry.
Pat Nall
Central Plains Outside Sales
Pat has been around aviation his entire life. In high school he worked at the family engine shop tearing down and overhauling aircraft engines. He began his career in general aviation parts distribution in 1984 and has been a parts manager for a large Piper and Cessna service center. He has been a branch manager for two large aviation parts distributors and is now responsible for outside sales in the midwest U.S. for Aero Performance.
Scott Luebs
North Texas / Louisiana Outside Sales
Scott has more than 30 years in aviation sales with extensive knowledge in parts for general aviation, business Jet aircraft, and Rotor wing. He started his career in 1988 with API AMR Combs as the Regional Sales Manager for the Mid-Atlantic region. In 2003, Scott was recruited to join Aviall / Boeing Global Services as the Sales Director for the Mid-Atlantic region where he grew their part sales, product repair work on main ship power supplies, and wheel / brake work for commercial, general aviation, business aircraft. Scott joined the Aircraft Spruce / Aero Performance team as the Regional Account Executive for the North Texas region in 2020.
John Copeland
Northeast Outside Sales
John obtained a Bachelor Degree in Business and Commercial Aviation from BJU and is a licenced pilot with Commercial, Multi-engine, and Instrument ratings. He has over 15 years experience in wholesale aircraft parts distribution as Territory Sales Manager in the Northeast states for AAR. John has been with Aero Performance since 2003.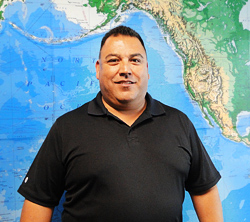 Bobby Bonilla
Southwest Outside Sales
Bobby got his start in the aviation industry in 1984 at Goodyear Wheel and Brake shop. He worked his way up to inspector before leaving to join Goodrich Wheel and Brake as production supervisor. Next, he joined AAR to run the west coast warehouse / branch in the Los Angeles basin. After the branch was closed in 2001, he joined Sky Tower Aviation as sales manager. He then worked with API as an outside sales representative from 2008 to 2014. In 2015, Bobby joined Aero Performance as the outside sales representative for the southwestern US.
Craig Roskelley
Northwest Outside Sales
Craig began his aviation career in 2005 when he Joined Aerospace Products International (API) as a regional manager in the Northwest. Prior to that, he had 15 years experience in the automotive industry as a multi state Regional Manager, supported such companies as; Federal Mogul and Wix filtration. Outside of work he enjoys: car restoration, camping, personal watercrafts and family activities. As of 2015, Craig is responsible for outside sales throughout the Pacific Northwest for Aero Performance.
Phil L'Heureux
Arizona Outside Sales
Phil received his SEL Pilot's License in 1977 and two years later started his Aviation Parts career at Elliott Aviation in Minneapolis. His experience in parts support for FBO maintenance continued to grow with his years with a Piper Distributor at Flying Cloud Airport. Phil has also been a Sales Representative for Aviall, API and Varga Enterprises. In 2015, Phil transitioned to Aero Performance and will be responsible for outside sales for the Southwest Region.
Johnny Myles
Fort Worth Branch Manager
Johnny Myles has 15 plus years in distribution and logistics. Johnny started his career with Fleetpride/PDC Truck &Trailer Parts as an order puller. After six months, he worked his way to become Warehouse Supervisor. Johnny then took on the role as Warehouse Office Supervisor and Warehouse lead for Saddle Creek Logistics for 8 years. Now, Johnny has been in aviation with Aero Performance for 6 years, and in 2018 was promoted to warehouse manager for the Fort Worth branch. Johnny became the Branch Manager at the Fort Worth facility in November 2020.
Donna Brogdon
Fort Worth Office Manager / Inside Sales
Donna started with Tex-Air Parts in 2001 with various duties over the years including purchasing, ILS Sales, counter sales, Internet sales, and inside sales and remains with Aero Performance in Fort Worth with the same responsibilities. Donna was appointed Office Manager at the Fort Worth branch in December 2020.
Scott Durham
Fort Worth Warehouse Manager
Scott joined Aero Performance in October 2019 and has been a part of the shipping and receiving team as well as being responsible for inventory control and equipment maintenance. Scott was promoted to warehouse manager at the Fort Worth branch in December 2020.
Linda Hamilton
Fort Worth Inside Sales
Linda began her career in aviation after high school working for an FBO in Fort Worth responsible for sales of parts, avionics and composites. Since 2002 she was with Tex-Air Parts doing inside sales, counter sales, and internet sales and now does the same for Aero Performance Fort Worth.
Gene Hodges
Fort Worth Inside Sales
Gene got his start in aviation in 1989 working on airplanes while going to A&P school and received his A & P certificate in 1992. He went to work for a large Cessna dealer as an A & P, and later moved into the parts department doing parts sales and technical support. Gene joined Tex-Air Parts in 1997 and is responsible for parts sales and technical support for Aero Performance.
Rick Plute
Chandler Branch Manager
Rick attended Northwest Aviation College for his flight training and earned his Associate Degree from Bellevue College in Washington State. He is a general aviation pilot with over 25 years of sales experience. While in Spokane, Rick worked for EDMO Distributors as a Regional Sales Manager. After relocating to Phoenix, Rick was VP of Sales at Guardian Avionics. Most recently, he was a Regional Sales Manager at Aerospace Products International (API) before they ceased operations. Rick became the Branch Manager in November 2020.
Ryan Reichmuth
Chandler Sales Manager
Ryan attended Palomar College where he obtained an Associate of Science Degree in Aviation Operations and Management. He joined the Aero Performance team in 2016 and has over 15 years of customer service and inside sales experience. In his spare time, he enjoys playing golf, fishing and travel.
Jenny Sheldon
Southwest Inside Sales
Jenny got her start in aviation in 1989 working for Sabena Airline Training Center as a parts manager in Scottsdale, AZ. In 2000, she took a Parts Manager and Team Leader postion with Ly_con Aircraft Engine Rebuilders in Visalia, CA and continued working there until 2005. In that year, she began a 10 year tenure with Aerospace Products International working from Kingman, AZ as an Account Executive. In early 2016, Jenny joined Aero Performance as an inside sales and account representative. Her extensive knowledge and experience makes her a tremendous asset and resource for Aero Performance and it's customers.
Greg Hisky
Mid-South Outside Sales
Greg soloed on his 16th birthday in 1975. After attending A&P school at MATVS in Memphis, he worked as a lineman / mechanic for Keith Wilson Aircraft. Greg then for worked 38 years with Aviall as a flying salesman where he accumulated over 10,000 hours flight time selling all over the south. Currently residing in Memphis TN , Greg and his wife have 3 children and 1 grandchild, where they enjoy working and investing time in youth baseball.
Pat Gentile
Harrisburg Inside Sales
Pat has been in aviation for the past 33 years since graduating from Pittsburgh Institute of Aeronautics with an A&P License in 1984. He started working for Rockwell International in Columbus, OH as a structures mechanic in the Nacelles final assembly department. From there he worked for Executive Jet Aviation on Lear Jets and Citations in the maintenance department and decided to take advantage of a sales opportunity and immediately found his calling in life. Working for such companies such as AVSCO, Cooper/AAR and API in Parts Sales and with CAE Simuflite selling multi-year pilot simulator training contracts. He dabbled in Maintenance Sales with Raytheon and Stevens but came back home to parts sales and is loving life again. Calling on the same people in the Great Lakes Region for a number of years has made him a regular fixture in the area and his big smile gets him in the door.
Shane Rampy
Southeast Outside Sales
Shane began his career in aviation with Champion Aerospace in 1996 as a machinist. During his twenty year tenure, his roles included: Technical Support, Marketing Manager and Aerobatic Performer Coordinator. After years of jumping out of perfectly good airplanes he now enjoys riding his Harley through the Carolina mountains. Shane looks forward to bringing his years of experience and passion of airplanes to all of our customers in the Southeast.
Lance Young
Harrisburg Branch Manager
Lance has nearly 30 years of distribution experience 23 years of which were in the 3PL sector. He started his management career with Menlo Logistics as a Logistics Coordinator and was quickly promoted to Operations Manager. He has worked as a General Manager for Menlo Worldwide Logistics and XPO Logistics. During his career he has worked on over a dozen start-up operations throughout North America and Europe. He has extensive experience in both highly automated and conventional distribution center operations.
Dick Crochet
Harrisburg Sales Manager
Dick began his aviation career with Van Dusen in 1978 as an inside sales representative in the New Orleans branch and continued on with Aviall in New Orleans. He moved to Harrisburg, PA as branch manager with Cooper Aviation in 1990 and remained in that position until Aero Performance took over that facility in 2002.
Ron Nissel
Harrisburg Inside Sales
Ron started his aviation career with Cooper Aviation in inside sales in 1995 and remains in that position today with Aero Performance in Harrisburg, PA.
Liz Pavlacka
Northeast Inside Sales
Liz started her career in aviation in 1988 with Superior Air Parts as an Administrative Assistant. During her 10 years with Superior, she was promoted to Inside Sales and then Assistant Branch Manager. In 2001, she joined A.E.R.O. Inc as an Inside Sales Representative and later was promoted to Branch Manager. Liz started with Aero Performance in September 2018 as an Inside Sales Representative working out of Bath, PA.
Vickie Stang
Omaha Supervisor / Quality Control
Vickie has been involved with the aviation industry for more than thirty years and has vast knowledge of general aviation parts. She started in 1991 when she worked in the front office and billing department for Omaha Airplane Supply. In 1994, she helped integrate the new computer software, which included the material components of their hose shop. Then in 2016, she was promoted to run the Quality Control and AS9100 for OAS, while also handling day to day business. In 2021, Aero Performance purchased Omaha Airplane Supply; she continues to run the Quality Control for the Omaha branch, while also working in hose shop sales.
Jim Stephens
Omaha Inside Sales
Jim started in aviation at Omaha Airplane Supply in 1984 in the shipping & receiving department. He continued into various positions with the company including counters sales, phone sales and purchasing. Jim left Omaha Airplane Supply in 1999 to work for his brothers construction company as a lead carpenter until 2019. Jim then retturned to Omaha Airplane Supply as a Sales Associate, where he specialized in Engine Sales. In 2021 Aero Performance purchased Omaha Airplane Supply and Jim continues in that role working out of the Omaha, NE branch.
To place an order, please call TOLL FREE (877) 785-AERO2376 Copyright © 2021 • Aero Performance. All rights reserved.